British Values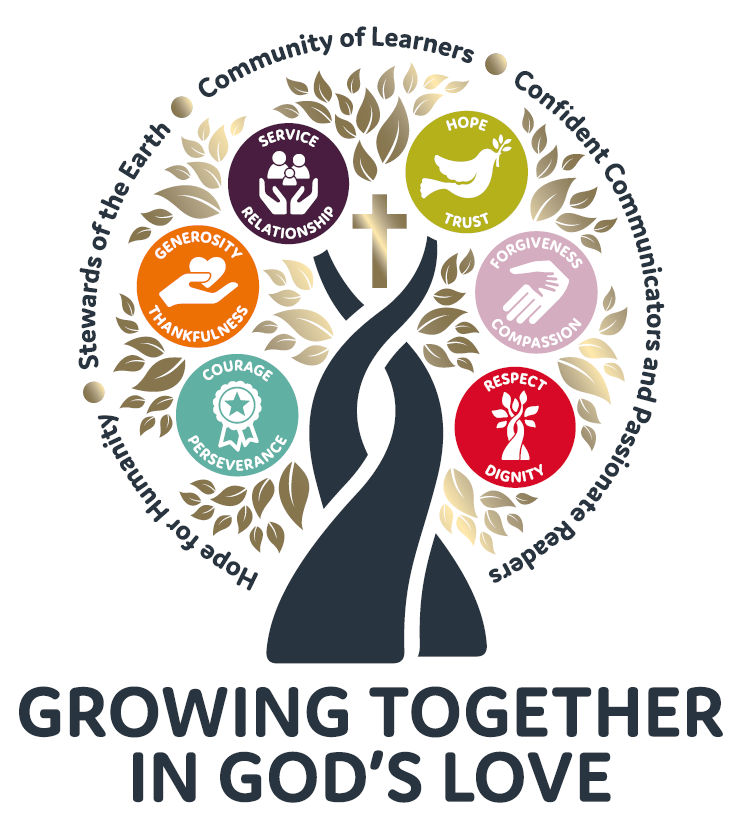 British Values
The Department for Education defines British Values as follows:
Respect for democracy and support or participation in the democratic process
Respect for the basis on which the law is made and applies in England.
Support for equality of opportunity for all
Support and respect for the liberties of all within the law
Respect for and tolerance of different faiths and religions and other beliefs
At Market Harborough C of E Academy we are all growing together in God's Love, and we put the Christian message of love and respect at the heart of all we do. In line with the teaching of Jesus, everyone is welcome and cherished in our community.
Our school is built on our aims, our Golden Threads and our values. These form the beating heart of our school and are central to all we aspire to be and do. We are committed to working in unity with parents/carers, our parish and our wider community, knowing that together we are stronger and achieve more; exemplifying 'love our neighbour' in action. Our aim is for our pupils to grow into responsible citizens who are a 'Hope for Humanity' at a local, national and global level.
We know it is so important that everyone in our school community learns to be respectful of themselves and others; developing an understanding of different cultures, faiths and the richness of the world we live in and being prepared for life in modern Britain. Therefore, our school reflects the British Values in all we do. In particular, our Religious Education, Personal, Social, Health and Economic Education [PSHE], Relationships and Sex Education [RSE], our Rights Respecting Schools curriculum and our assemblies and collective worship provide excellent opportunities to deepen and develop understanding of British Values.
At Market Harborough C of E Academy, we actively promote British Values in the following ways:
Value: Mutual respect and the tolerance of those with different faiths and beliefs
Statement
Respect is a fundamental school value and is embedded in all we do in school. We pay explicit attention to this through:
Our RE curriculum where links are made with local faith communities and children visit a range of places of worship and pupils are able to learn about the rich and diverse faith communities in the United Kingdom, recognising similarities as well as differences.
Our PHSE, RSE and SMSC curriculum embody the value of mutual respect through a range of units which explore the rich tapestry of life in modern Britain and encourages pupils to reflect on the diversity.
Special assemblies and Collective Worship where we learn about a range of important religious festivals celebrated through the year.
Explicitly teaching our school value of respect through assemblies and Collective Worship, using real life examples and examples from the Bible and other religious texts to demonstrate to our pupils how to show respect in action, including self-respect.
Ensuring that the value of respect is central to the school behaviour policy statements - 'Respect ourselves, value others and our environment and show compassion in all we do'.
Part of our School Council is made up of:
The Community team who supports with assemblies and times of worship. Their role is to help us all learn to be a 'Hope for Humanity' and to embody how to be respectful to everyone.
The Eco Team who are our 'Stewards of the Earth' and promote respect for our natural world.
School Captains and Vice Captains who lead each House Team and model the behaviour we want to see in our pupils.
The Reading Team who support our buddy reading scheme and encouraging a love of reading in school.
Value: Democracy
Statement
The pupils at Market Harborough C of E Academy see democracy carried out in a variety of ways and see this as being an essential component of successful team working.
Democracy is embedded in our school through teaching our values; in particular; respect, relationships, forgiveness, compassion, dignity.
Through our behaviour statements, we encourage all members of the school community to listen to each other, respecting everyone's right to be heard and share their opinions.
Pupils are involving in democratic processes through voting for members of the school council, reflecting our British electoral system. The school council reports back to the school and adheres to democratic processes.
Through our 'Confident Communicators and Passionate Readers' Golden Thread, we organise debates and discussions, so children learn how to present their point of view and hear the views of others respectfully.
In addition, pupils have the opportunity to have their voice heard through a range of surveys and focus group discussions looking at different curriculum areas including wellbeing and mental health.
Value: Rule of Law
Statement
The pupils are Market Harborough recognise the importance of laws whether they are those that govern the class, the school or the country and our school rules are reinforced throughout the school day.
Our school values focus on the rule of law, in particular, respect, dignity, forgiveness, compassion, relationships and service. Through our Rights Respecting School work and our school ethos, pupils learn about the importance of their rights and their responsibilities.
Through our clearly structured Behaviour and Relationship Policy, the pupils learn the importance of following rules to keep everyone safe.
Where things go wrong and rules are not adhered to, the school has clear systems of reconciliation in place to allow pupils to reflect on the consequences of their actions and to seek forgiveness. In turn, pupils are supported in forgiving others for mistakes they have made.
In school, there are strong community links e.g., the police service, fire service, water safety officer.
Discussions about rules are an important part of RE and PHSE lessons in school.
Assemblies and Collective Worship have a focus on the rule of law throughout the year, helping pupils to recognise why we have laws, that they are there to govern and protect us and what happens when laws are broken.

Value: Individual Liberty
Statement
Our pupils are encouraged to learn about their rights and the rights of others in particular through our Rights Respecting Schools work and embedded in our values, in particular, respect, dignity, service, relationship, courage and perseverance.
Within our school, pupils are actively encouraged to make choices, knowing they are in a safe and secure environment.
Through our Behaviour and Relationships Policy, our assemblies and our broader curriculum, we teach pupils about the importance of making wise choices and being courageous. We ask our pupils to recognise and count their blessings and be grateful for the good things in our world. In addition, we encourage our pupils to distinguish right from wrong, recognising that individual 'truth' can sometimes be subjective.
Our pupils are encouraged to understand their rights and personal freedoms and are advised how to exercise these safely e.g., PSHE and E Safety lesson focus on this.
The school has a strong Anti Bullying culture and pupil voice is crucial in understanding challenges they are facing. Any form of bullying is challenged and addressed. The school has a robust system of logging and tracking incidents to ensure patterns are identified and quickly acted upon.
Pupil voice through the school council, focus groups and surveys are crucial in ensuring that vulnerable pupils receive appropriate support and the wellbeing of identified pupils is clearly monitored systematically.
Through our school culture of cherishing and welcoming all, we encourage our pupils to become articulate individuals who can lead safe, healthy, and hopeful lives. Responsible citizens who are a hope for humanity at a local, national and global level and strong stewards of our earth, recognising the interdependence of our world and its future sustainability.