English and the Arts
Our aim for English is to promote high standards of language and literacy by equipping pupils with a strong command of the spoken and written word, and to develop their love of literature through widespread reading.
READING:
Our school aims to promote and foster a positive reading ethos from entry to Year 6 and beyond. Pupils have opportunities to undertake whole class and independent reading throughout the school. Reading sessions include teaching our children to become fluent, competent and expressive readers; each session has a focus on a particular reading domain to improve comprehension skills. A diverse range of reading books and a staged reading scheme are available to all of our pupils. Each class has their own Top 20 Books to read which are a mixture of exciting, age appropriate texts that engage and challenge the children to read by the end of each academic year. Our School's Library is designed as an Enchanted Forest to foster the magic of reading.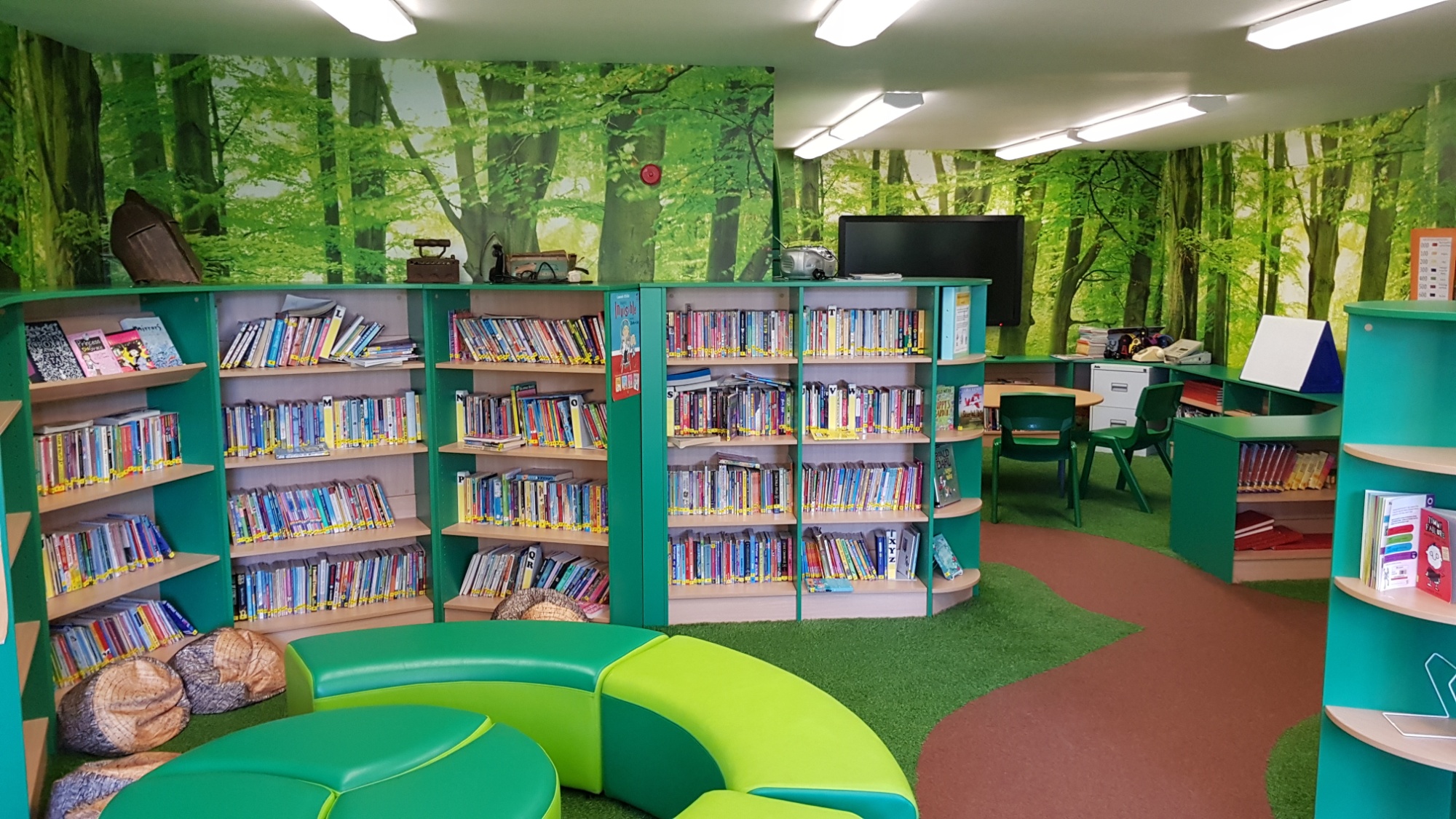 WRITING:
A strong stimulus to engage the children, a clear lesson objective, talk partners, modelling from the teacher and regular peer and self-assessment are key features of all English lessons. Working walls support the learning in all of our classrooms. Assessment in the form of a COLD WRITE at the beginning of a unit of work informs planning and a final, independent piece of writing, or 'HOT WRITE' is used to assess progress against year group expectations. We also look for opportunities to publish our children's writing in different ways to celebrate the writing that is produced.
PHONICS/SPELLING:
The teaching of phonics and spelling skills is embedded within English teaching and additional provision for Key Stage 1 is made each day in discrete Read Write Inc. sessions. During these lessons, children are taught how to apply their developing skills to their writing.
Spellings in Key Stage 2 builds on from phonics teaching through a Word Study approach, developing knowledge of words that our children have already acquired through phonics teaching, and expanding these to develop critical thinking, word observations, discussion and reasoning skills. Word Study provides opportunities for our children to talk about the words and language in meaningful contexts, and apply it to their own learning.
ORACY:
Oracy is the ability to express yourself clearly. As a school we aim to provide 'oracy-rich' classrooms where talk is valued. Good communication skills feed in to all areas of the curriculum and prepare children for participation in the wider community.
In the Early Years and Key Stage 1, we use a Story-Telling approach where familiar stories are re-told using language and vocabulary; this is modelled, repeated and mapped out using role-play. This encourages our children to express themselves confidently before putting their thoughts down on paper.
In Key Stage 2, our children are encouraged to discuss topics and ideas as well as participate in drama exercises and debates. During PSHE sessions children's thoughts and ideas are valued and in other areas of the curriculum the children use their oracy skills to problem solve and make decisions. Our children are able to demonstrate their well-developed oracy skills when showcasing their learning, whether it be a Power Point presentation, an end of year show, a poetry recital or a performance by the choir.
CREATIVE WEEKS:
Throughout the year we have timetabled CREATIVE WEEKS – these are dedicated weeks that focus on Art, Design Technology, Modern Foreign Languages and Outdoor Education. They are designed to teach skills and knowledge that the children can then use throughout the year across other areas of the curriculum.
ART:
In our school we teach Art by exploring, developing and evaluating the skills linked to the key areas of: Drawing, Painting, 3-D, Collage, Digital Media and Textiles. Our children experiment with colour, form, shape, texture, tone and perspective whilst using a variety of media to create high quality artwork. We often use the work of other artists for stimulus, and children study the life and works of inspirational artists. Our children's work is always celebrated and displayed in school; examples of excellence are exhibited in our school's Gallery.
MUSIC AND THE PERFORMING ARTS:
MUSIC:
A Specialist Music delivers and exciting, practical and varied Music Curriculum. Our intention is that children gain a good understanding of what music is through listening, playing, evaluating, analysing and composing across a wide variety of historical periods, styles, traditions and musical genres. Our children will develop a curiosity for the subject as we promote an understanding and acceptance of the importance of all types of music. We are committed to ensuring children understand the value of music in the wider community and to enable them to use their musical skills, knowledge and experiences in a range of performances.
We offer Individual music lessons that are taught by visiting teachers as well as whole class instrumental teaching of the ukulele and recorder. Each week all of our children also have a dedicated singing session. They learn new songs, which are often used throughout the year for celebrations and they pride themselves in performing together – especially when they are singing some of their 'old favourites!'
PERFORMING ARTS:
The aim for our Performing Arts education is that we provide opportunities for our children to engage their mind, body and emotions as they express themselves with increased confidence. We value high quality performances and all of our children are involved in several productions as they progress through our school – we believe these offer memorable experiences and the performing arts as a discipline helps to promote the values we hold deeply in our hearts.
MODERN FOREIGN LANGUAGES:
The teaching of language encourages children's curiosity of the world around us and provides invaluable social and cultural experience to equip them for adult life. At our school, we teach Spanish to all of our children, providing them with the opportunity to develop their intercultural understanding as well as being able to learn through conversation, reading and writing in another language.
We use a progressive scheme of work and in our lessons we focus on delivering exciting, challenging and varied activities to teach the children how to say, read and write in Spanish. Topics include: Greetings, The Calendar, Colours, Numbers, Food, Myself and Animals - our overall aim is to instil a love of language learning.